Sajid Javid claims 50% fall in homelessness under Conservatives—homelessness is up since 2010
5th Dec 2019
Claim
Homelessness reached its peak in 2008 under the last Labour government. Since then it's down by almost a half.
Conclusion
We're not aware of any data showing this. Statutory homelessness in England fell between 2003 and 2009. It has risen around 39% since then.
"Homelessness reached its peak in 2008 under the last Labour government. Since then it's down by almost a half."

Sajid Javid, 5 December 2019
On Sky News this morning, Chancellor Sajid Javid claimed that homelessness reached its peak in 2008 under Labour and since then is down by almost a half.
There are lots of different ways of measuring homelessness, and none of them give a full picture. But according to all the evidence we've seen, this is almost the exact opposite of what has happened.
We contacted the Conservative party to ask what evidence Mr Javid had for his claim.
The Conservatives later told Channel 4 FactCheck that he had misremembered the statistic and meant to say that statutory homelessness peaked in 2003.
This is correct.
It also means Mr Javid was wrong in claiming credit for the Conservatives cutting the homelessness rate. The fall in the number of homeless households in England all happened before the Conservatives took office in 2010.
Statutory homelessness
One of the most commonly used measures of homelessness is something called "statutory homelessness".
English councils have a "main duty" to house people with a priority need. The number of these households fell from 2003 to a low of around 42,000 in 2009.  By 2017 this had increased by 39% to almost 58,000.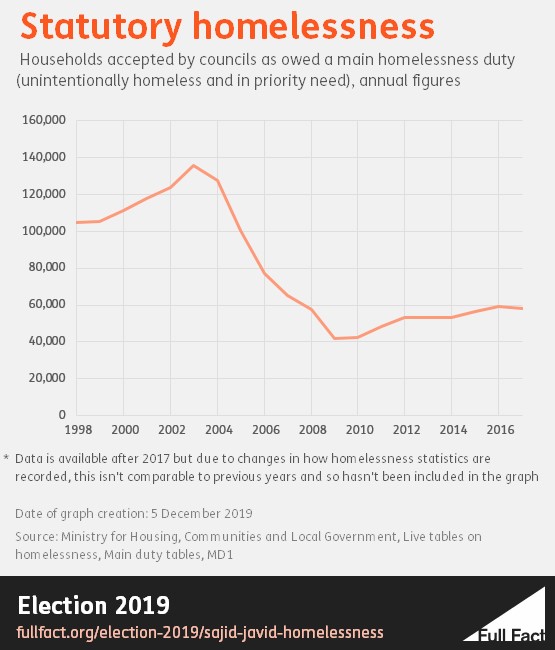 Newer data is available, but we can't compare the older figures to this because legislation in which came into force in 2018  put a new requirement on councils to prevent homelessness for everyone who is eligible for council support, not just people who count as having a priority need.
This means that last year the government introduced a new system for collecting homelessness statistics so the newer data isn't comparable with the older data.
Even if more recent data was comparable, it's worth pointing out that using this measure to describe the level of homelessness is by no means perfect.
The House of Commons Library writes: "Main duty acceptances have in the past been used as an indicator of the extent of homelessness, but it has long been accepted that this doesn't provide a full picture."
Other measures describing homelessness are up
There are other measures which similarly show that Mr Javid is wrong to say the government has cut homelessness by half.
The number of households in temporary accommodation in England increased by 65% between January to March 2010 and January to March 2019.  
This is used alongside the statutory homelessness statistic detailed above as a proxy measure of the homelessness rate.
The number of rough sleepers has also increased since 2010, by around 165%.
None of these datasets are perfect, and there have been historic problems with undercounting which you can read more about here.
However, the broad indication is that homelessness has increased since 2010, not decreased.
Update 5 December 2019
We updated this article to include the Conservatives' response to Channel 4 FactCheck.