Factchecking David Cameron's speech on Europe
23 January 2013
This morning the Prime Minister delivered his much-anticipated speech on Europe, including the headline-grabbing promise to deliver an in-out referendum on Britain's membership of the EU in the next Parliament should his party be re-elected. 
The speech however contained much more than a pledge to hold a referendum, and Mr. Cameron gave his thoughts on the EU's successes, failures, and the challenges it faced in the future.
But do these claims check out? 
"Europe's share of world output is projected to fall by almost a third in the next two decades."
The combined economic output of the 27 member states of the European Union for 2011 was valued at approximately €12.5 trillion by Eurostat, the EU's official statistics body.
The World Bank meanwhile estimates that the total value of the world's economic output is around $70 trillion, or €52.5 trillion, meaning that the EU accounts for around 23.8% of the world's economy.
What Mr Cameron seems to be referring to when he predicts a sharp decline in Europe's importance to the world economy is an OECD economic outlook from last year. As the graphic below shows, this predicts that while the Euro Area represented 17% of world GDP in 2011, by 2030 it would account for just 12%, a decline of 5 percentage points, just shy of a third.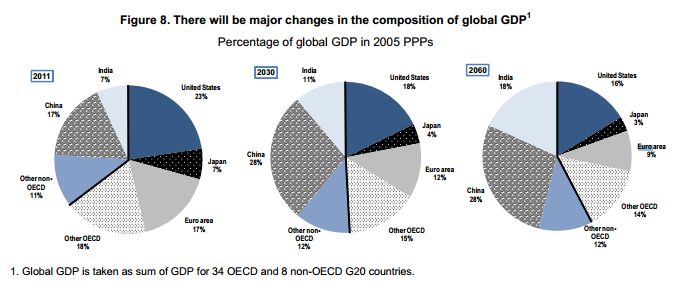 There are a number of caveats that apply to this however: the OECD analysis actually uses the 34 OECD countries and 8 non-OECD G20 countries as a proxy for global GDP, which means that several smaller and developing economies are excluded (although the larger developing economies such as China, Brazil and India are included).
Secondly, the analysis looks specifically at the Euro Area - the group of countries that belong to the Euro - rather than the whole of the EU, which may explain why it accounts for a lower share of global output than is suggested by the World Bank figures.
Finally, the period of this analysis is slightly longer-term than Mr Cameron's was, accounting for nearly three decades rather than two.
We should stress that the source for the Prime Minister's figure hasn't been confirmed to us by Number 10, so we can't be sure that this is indeed the forecast he had in mind (if you know of any other analyses, then do let us know). We hope to pin this down with his team, and will update when we know more.
"If Europe today accounts for just over 7 per cent of the world's population, produces around 25 per cent of global GDP and has to finance 50 per cent of global social spending, then it's obvious that it will have to work very hard to maintain its prosperity and way of life."
In this instance, Cameron was quoting Angela Merkel. Was she right? 
World population: The United States Census Bureau estimates that the world population currently stands at 7,061,519,459. 
European Union population: 503,678,862 (Source: Eurostat, 2012 estimates). This means Europe is home to 7.1% of the world's population. So that claim does hold up. 
As we saw earlier, according to the World Bank, the total global gross domestic product is $70 trillion (roughly €52.49 trillion), and Europe's economy generates €12.5 trillion, meaning it represents around 23.8% of the global world product. Again, Chancellor Merkel was fairly close. 
The last claim, vis-à-vis global social spending, is a bit trickier to calculate, particularly because it's not clear what Chancellor Merkel meant by 'financing' global social spending. Would it include aid for example? Here's our calcuation on global social expenditure, not including development aid. 
The World Bank reports that global welfare spending in 2010 was 29.3 of gross world product. Given that we know that gross world product is equivalent to €52.49 trillion, we can predict that global social spending is roughly €15.3 trillion.
The collective welfare spending for the EU-27 in 2010 was €3.1 trillion (source: Eurostat) . This would mean that social spending in Europe was a fifth - not half - of all global social spending. Again, we hope to clear up this apparent discrepancy when we hear back from Number 10.
"Can we carry on with an organisation that has a multi-billion pound budget...?"
Europe's budget for 2007-2013 was agreed in 2006, and totals €864.3 billion. EU leaders are yet to clinch a deal on Europe's budget for the six years beginning from 2014. An agreement will be reached at the EU leadership summit on February 7-8. The table below shows the amount the European Commission has suggested allocating to its budget.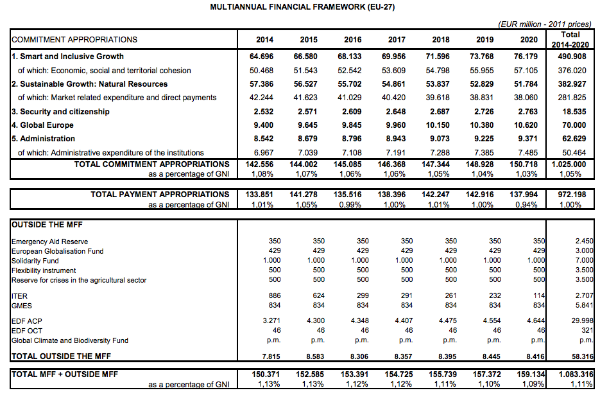 There is much more to check in Mr Cameron's Europe speech, and we'll be taking a look at some of the other areas he touched upon tomorrow. Join us then for the second part of our analysis.
---
Flickr image courtesy of President of the European Council