Do we have fewer hospital beds than most of Europe?
17th Apr 2014
"UK has second lowest number of beds per person in Europe, report shows, as NHS overcrowding breaches safety limit and raises risk of superbugs".

Daily Telegraph, 15 April 2014. 
The Telegraph's front page yesterday reported that an OECD study had 'exposed' a hospital bed shortage in the UK, a story also picked up by the Guardian and the Daily Mail.
The study shows the UK had the second lowest number of hospital beds per capita among 23 European countries. These statistics aren't new - the OECD told us the last report they published on it was in November last year.
While having a low number of hospital beds per capita does not in itself signal a 'bed shortage' - especially where policies have sought to provide more services in the community - the occupancy rate is more illuminating. Official statistics show this is fluctuating above the level deemed by some academics to be the safe limit, although the Department of Health have said they do not set a target rate.
OECD: 2.9 hospital beds per 1,000 population
The OECD's statistics on hospital beds find the UK to have a lower number of beds per 1,000 of the population compared to the other countries for which data is available.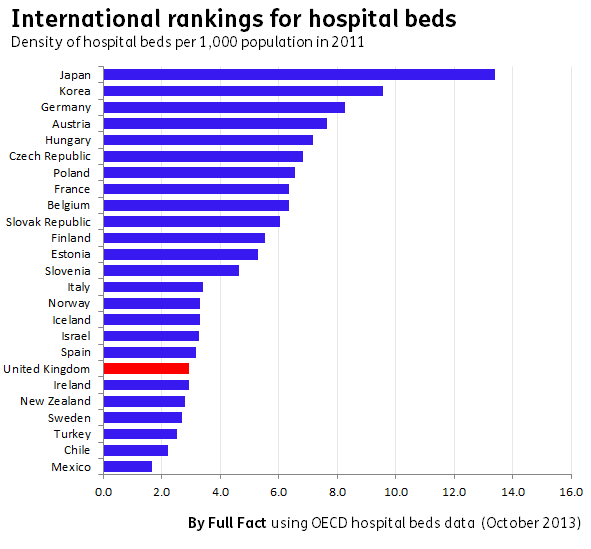 But looking back over time (where the data is available) we can see that most of the countries have seen a reduction in the rate - although the decrease has been larger for the UK.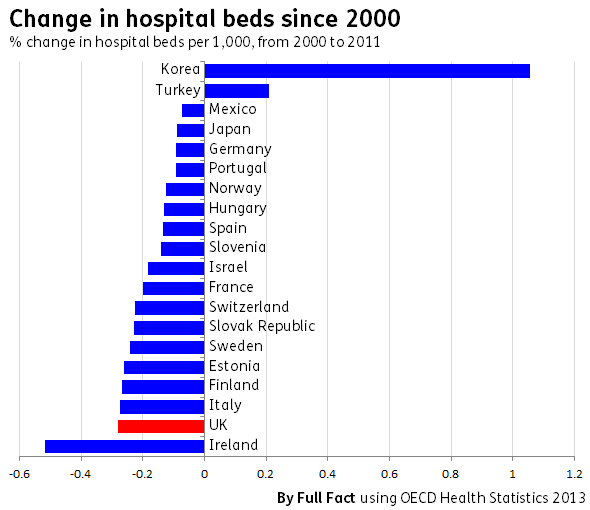 The OECD said the overall reduction in hospital beds per capita "has been driven partly by progress in medical technology which has enabled a move to day surgery and a reduced need for hospitalisation".
In response to the Telegraph's article, the Department of Health pointed towards faster treatment and more care being delivered in the community as the reason for the decrease, saying that bed markers are not an accurate marker for good care.
An article in the British Medical Journal argued that mental health, learning disability and geriatric services had seen a more marked reduction in hospital beds because of the shift to community services.
Levels of overcrowding breaching 'recommended safety limits'? 
If more community services have reduced demand for hospital beds and so the number required, then perhaps the more important measure is how many beds are being occupied.
The Telegraph warned that "levels of overcrowding in hospitals have repeatedly breached recommended safety limits", and referred to official NHS figures showing that occupancy rates reached 87.6% last year. The OECD report found the UK had the 7th highest occupancy rate among 25 OECD countries, at a rate of 84.3% for acute care beds in 2010, compared to the OECD25 average of 76.8%.
But there is no official 'safety limit' set by the Department of Health. Some academics have suggested that an occupancy rate above 85% increases the risk of infection - and we've discussed previously how the Royal College of Psychiatrists have said that 85% is the desired occupancy limit for mental health patients. A House of Commons Public Accounts Committee report in 2009 recommended further research should be undertaken to find the appropriate limit, and there still doesn't seem to be a definitive answer.
The 85% occupancy rate has actually been breached regularly for several years. Annual NHS data available for England from 2001-02 to 2009-10 shows the lowest recorded level for all wards was 84.4% and the highest was 85.8%, with the rate above 85% in six out of the ten years - despite the reduction in the number of hospital beds.
These figures are now published quarterly and reveal a fluctuation between quarters - with winter seeing the highest recorded occupancy each year since 2010/11. As the Telegraph reported, the highest figure recorded per quarter since 2010/11 was 87.6% in winter 2012/13, but we can't compare this to the earlier annual rates.
Of course, since these are averages they also conceal more varied rates on a hospital by hospital level and on a daily level. The latest figures available show a mental health trust in London had the highest rate at 99.2%.
So, the OECD data does show the UK to have fewer beds per capita compared to other OECD countries, and a higher occupancy rate too. But whether or not this should cause concern for patients and hospitals remains less clear until further research is conducted which can provide a definitive answer.
We aim for our fact checks to be as accurate and up-to-date as possible. If you think we've made an error or missed some relevant information, please email
team@fullfact.org
.