This article has now been updated. (Please see below.)
It is supposedly one of society's worst fears - sex offenders on the prowl, committing crimes without detection.
But according to today's Daily Mail, 'Dozens of sex offender doctors are still working'. It's discovered via a Freedom of Information request that 'At least 31 male GPs, consultants and surgeons are practising even after having assaulted women, been in possession of child pornography or solicited prostitutes'.
Despite their convictions these doctors are still treating patients, who have no idea about their criminal history. The Daily Mail is keen to point out that these doctors are known to the authorities but 'they can't be banned in case it breaches their human rights'.
The General Medical Council (GMC), the independent regulator for doctors, told the Daily Mail that it doesn't have the power to bar these doctors from practising medicine. However, the GMC's Chief Executive is also quoted as saying that cases of doctors being convicted of sexual offences are 'very rare' and 'in the vast majority of these cases these doctors are struck off the medical register'. 
So, what's the likelihood of a doctor being struck off?
We asked to see the GMC's response to the Daily Mail's Freedom of Information request. It consists of a table that includes the details of 30 cases where doctors have been cautioned or convicted for sexual offences.
The Daily Mail's count of 31 can be explained by the fact that to the total of 30 they added the case of another doctor who is currently suspended but hasn't been struck off.
What the article doesn't reveal is how many doctors have been barred for similar offences. This would provide us with a better idea of how powerless the regulator actually is when it comes to protecting the public.
We have now requested statistics for the number of doctors who, having been cautioned or convicted of sex offences, have subsequently lost their licence. This should help us to contextualise the Daily Mail's number. As soon as we have the results of this FOI, we'll be able to gauge the likelihood of a doctor being struck off if they're found guilty of a sexual offence.
In the meantime it's worth noting that there are 237,559 doctors who are licenced to practise in the UK. The 31 convicted sex offenders who remain on the GMC register represent less than 0.01% of the total number. 
Obviously, if you're a patient of one of the 31 doctors the reassurance offered by this percentage might not alleviate your concerns. However, in each case independent experts have concluded that the doctor in question should be able to continue practising. 
Is human rights legislation always to blame?
The GMC has inquired whether it might be possible to automatically ban doctors on the sex offenders register. However, the QC whom they consulted for legal advice suggested that 'an automatic bar, without exceptions, would not be compatible with human rights legislation'.
In other words, it's standard that each case is judged on its particular circumstances. For every single doctor whose name ends up on the sex offenders register, the Medical Practitioners Tribunal Service makes a decision about whether or not they're fit to practice. The GMC also refers these cases to the Independent Safeguarding Authority, which decides whether individuals should be allowed to work with children or vulnerable adults. 
Once we know how many doctors have been barred from practising because of sexual offences, we'll be able to calculate what proportion of doctors keep their licences. We will then know whether these 31 doctors are the exceptions that prove a rule - that, as the GMC claims, most doctors guilty of a sexual offence are in fact struck off.
UPDATE (13 November 2012)
We have now received the GMC's response to our FOI request. As we explained at the time, we wanted to be able to put the statistics quoted by the Daily Mail in some kind of context. To recap:
Back in September the Daily Mail reported that 31 doctors who've been cautioned or convicted for sexual offences are still practising medicine. The newspaper claimed that these doctors 'can't be banned in case it breaches their human rights'. We wanted to know how often the General Medical Council had found itself powerless to act, so we asked the GMC how many doctors had been barred for sexual offences.
We now know that in the last five years 22 doctors have been struck off by the GMC after they received a conviction or caution for a sexual offence. A further six doctors were not 'erased' by the GMC despite having committed an offence - four of them are currently suspended from the medical register and the other two had requested that their names be removed.
Added to this number are the 56 doctors who have been barred because of 'sexual misconduct'. As the GMC explains, "The allegations would include, for example, the doctor having an inappropriate sexual relationship with a patient or undertaking an inappropriate, sexually-motivated examination of a patient". While the police were involved in some of the cases, none of these doctors were convicted or cautioned for an offence.
As an update to the Daily Mail's figure, the GMC's records suggest that in the last five years 26 doctors have been allowed to continue practising medicine and are currently licensed, despite the fact that they've committed a sexual offence.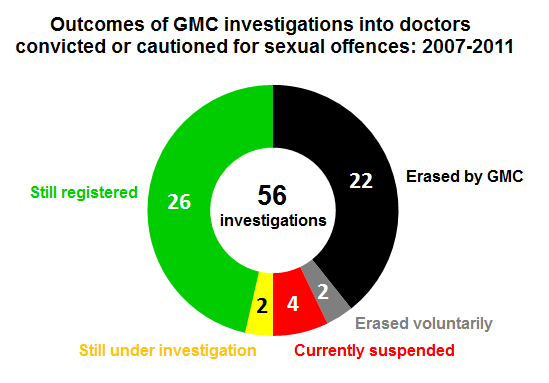 It's unclear why our statistics differ from those provided to the Daily Mail, but it's probably due to the fact that the GMC is not able to confirm the current employment status of every doctor until their "revalidation". As of December 2012 all doctors will be required to undergo an appraisal every five years, with the idea that this will "give extra confidence to patients that their doctors are up to date and fit to practise".
From the response to our FOI request, we can see that in the last 5 years the GMC has barred approximately two in five (22 of 56) of those doctors investigated for sexual convictions or cautions.
With Brexit fast approaching, reliable information is crucial.
If you're here, you probably care about honesty. You'd like to see our politicians get their facts straight, back up what they say with evidence, and correct their mistakes. You know that reliable information matters.
There isn't long to go until our scheduled departure from the EU and the House of Commons is divided. We need someone exactly like you to help us call out those who mislead the public—whatever their office, party, or stance on Brexit.
Will you take a stand for honesty in politics?
---