BBC Question Time: Recap and Factcheck
26 October 2018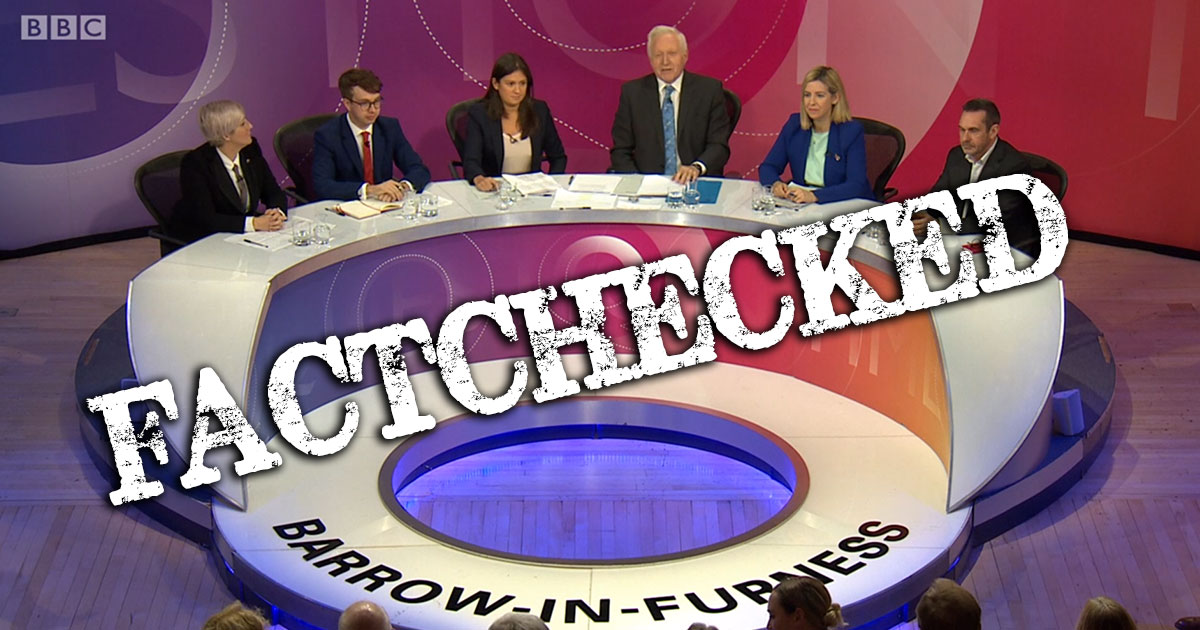 This week's Question Time came from Barrow-in-Furness in Cumbria.
Topics covered this week were: non-disclosure agreements, Trident, Brexit and whether austerity is really over.
On the panel this week were Conservative backbencher and Brexiteer rebel Andrea Jenkyns, Labour backbencher Lisa Nandy, SNP digital spokesperson Hannah Bardell, Financial Times journalist Sebastian Payne, and journalist Paul Mason.
(Actually relevant statistical) fact about Barrow: In the 2011 census Barrow-in-Furness had the largest population decrease in the UK over the previous 10 years (down 4%).
Double your donation
Give today via The Big Give and your donation will be doubled.
Question 1: Non-disclosure agreements
The first question was a bit of a gimme for the whole panel: "Should non-disclosure agreements [NDAs] be used as cloaks of invisibility for the wealthy?" As Ms Jenkyns said: "I'm sure we'll all agree on the panel on this particular issue."
The question referred to a member of the House of Lords using parliamentary privilege yesterday to name Sir Philip Green as the anonymous businessman who had obtained an injunction against the Telegraph to stop it publishing information about accusations of bullying, intimidation, racist abuse and sexual harassment. (Mr. Green has said that "To the extent that it is suggested that I have been guilty of unlawful sexual or racist behaviour, I categorically and wholly deny these allegations.")
Ms Nandy agreed the rich and powerful shouldn't be able to hide allegations of their indiscretions, but added that for regular people experiencing workplace abuse: "[The government has] stripped away legal advice, [it has] hiked up employment tribunal fees over the last few years."
Ms Nandy is right about legal advice on employment. Legal aid, money from the government to help meet the costs of mediation or representation in a court or tribunal, hasn't been available in England or Wales for either advice or representation in employment law matters since 2012, except in discrimination claims.
But her claim on employment tribunal fees is misleading—while they were introduced in 2013, they were axed after a court ruling last year.
An employment tribunal decides whether an employee has been unlawfully treated by their employer, dealing with issues like unfair dismissal or discrimination.
Employment tribunal fees (paid by the claimant) were declared unlawful by the Supreme Court in July 2017, and now people don't pay fees for employment tribunals and employment appeal tribunals in Great Britain.
Those who paid fees since they were introduced in 2013 can apply to get that money back using the government's refund scheme. According to the House of Commons library, "all fees paid to date will be repaid by the government". Fees were between £390 to £1,200 to lodge their claim and for a hearing (if they weren't eligible for a fee remission, depending on their income and "disposable capital").
We've asked Ms Nandy for more information on her claim.
Ms Bardell said non-disclosure agreements had their place, for example to protect intellectual property when people moved jobs and were potentially taking commercially sensitive information to a competitor. She then said she was the subject of an NDA but didn't go into detail.  
Mr Payne then said that "the House of Commons spent £2.4m on 53 gagging orders last year." The figure is correct, although the time period is wrong—it was over the last five years.
This comes from a freedom of information request submitted by the BBC's Chris Cook, which revealed that between 2013 and 2017 the House of Commons paid out £2,407,176.78 on a total of 53 settlement agreements with House of Commons staff that included confidentiality clauses.
Ms Jenkyns said that new MPs needed training in how to manage a team and employment law to which an audience member responded: "Are you suggesting MPs need training not to touch a woman's backside as she walks past them in the House of Commons." Ms Jenkyns responded "no, of course not" but re-emphasised the importance of training managers of teams.
Question 2: Trident
The debate then turned more local with a question on shipbuilding, referring specifically to the Trident nuclear submarine programme: "If Jeremy Corbyn was to be swept to power in a General Election, what would be the effect on the shipyards and town of Barrow."
All four Vanguard class Trident submarines were built in Barrow by what is now the submarine division of BAE systems. In 2016 construction started in Barrow on their replacements—the Dreadnought class submarines.
The replacement of the Vanguard submarines is expected to cost £31 billion. Another £10 billion has been put aside to cover any extra costs or spending over the estimate. We've written more on this here.
The panel argued for a bit on exactly what the Labour party's position on Trident is.
Mr Mason said Jeremy Corbyn was "committed to Labour policy which is to build the submarines, build them, deploy them and keep them at sea as a deterrent."
Ms Payne later said: "When [Jeremy Corbyn] was down in Glastonbury he told Michael Eavis, [when Eavis asked] would you get rid of Trident when you get to power and [Corbyn] said yes of course I will."
Mr Corbyn has said that he personally disagrees with renewing Trident, but at the last election said that he would follow his party's manifesto commitment to renew.
Speaking at Glastonbury in 2017 (and a couple of weeks after the General Election), the festival's founder Michael Eavis told a crowd about a private conversation he'd had with Mr Corbyn, before the leader had taken to the main stage the day before.
Mr Eavis reportedly asked Mr Corbyn: "When are you going to get rid of Trident?" and said Mr Corbyn had replied: "'as soon as I can'."
Labour's 2017 General Election manifesto said: "Labour supports the renewal of the Trident nuclear deterrent."
But it went on to say that Labour would "lead multilateral efforts with international partners and the UN to create a nuclear-free world."
Parliament approved the renewal of the UK's nuclear deterrent back on 18 July 2016, with 472 voting for and 117 (including the Labour party leader) voting against. Labour MPs were free to vote how they wanted—141 voted to renew and 48 voted against.
During an interview with Andrew Neil on the BBC before the General Election in 2017, Mr Corbyn said: "I voted against the renewal [of Trident], everybody knows that because I wanted to go in a different direction. That is the decision that's been taken. I respect that decision going ahead."
Pressed further on whether he personally supported to policy to renew, he said: "It's there in the manifesto, it will be carried out, and what we're going to do is pursue that and at the same time negotiate the multilateral disarmament and a nuclear free [world]."
In other shipbuilding news, Ms Bardell criticised the Government for putting a different contract for support ships out to international tender, arguing that if we kept that contract in the UK it could support 6,500 UK jobs.
We've checked this claim before, and the 6,500 number is based on modelling that assumes that if the contract went to a British firm, it would keep the entire supply chain in the UK (e.g. all the steel they use would be British). That's not been the case when British firms have previously won shipbuilding contracts and so the 6,500 figure is very uncertain.
Question 3: That Ross from Friends look-alike thief in Blackpool (lol jk it was 'The one where the audience ask about Brexit' again)
Much like David Schwimmer's doppelgänger in the CCTV footage, Brexit reared its head (again) this week with a question specifically referencing the recent moves against Theresa May by some of her backbenchers (including panellists Ms Jenkyns, who has called for her removal).
"Should politicians feel it's appropriate to plot against a Prime Minister who is trying to implement the will of the people."
The conversation quickly morphed into a debate about the merits and demerits of a second referendum, and the Norway and Canada options which we've written about before.
Also there was a lot of argument about exactly what Labour's position was on Brexit.
An audience member criticised the Labour party for arguing amongst themselves over the issue to which Ms Nandy responded: "We've got a really clear position that we have had for a long time. We've been pushing Theresa May for a UK-wide Customs Union and access to the Single Market in order to protect jobs."
The crucial word here is "a". The EU customs union is a free trade area in which countries can't put tariffs on goods and services imported from each other, and set the same tariff for countries outside the union. All EU member states must be part of the customs union.
Labour wants to leave the customs union, but negotiate a new one on very similar terms. Back in February, Mr Corbyn said this would "ensure that there are no tariffs with Europe" and "would depend on Britain being able to negotiate agreement of new trade deals."
Ms Nandy specified that Labour's desired customs union would be UK-wide. This is probably because there has been some talk of only Northern Ireland remaining in the customs union, while the rest of the UK leaves it. The government has ruled out only Northern Ireland remaining in the customs union.
On the single market, Labour wants something similar. The EU single market is more wide-ranging: member countries sign up to the free movement of goods, services, people and money across their borders. Labour wants similar levels of access to the single market as we have now while being outside it, although what is meant by "access" in this context is uncertain. It's not completely clear, but this could mean an end to free movement of people from the EU.
It's hard to judge how feasible this stance would be as a negotiating position, for the simple reason that Labour are not the ones negotiating Brexit.
But much as the EU have rebuffed aspects of the government's "Chequers proposal" for "undermining the Single Market", it's plausible that Labour's policies on both the customs union and single market would also fall foul of the EU's red lines.
That's because they seem to amount to most of the benefits of being inside these structures, without the same level of obligations to respect EU rules on things like free movement and signing trade deals. We've written a fuller explanation here.
Question 4: Austerity
To finish, the discussion turned to Theresa May's conference pledge: "A decade after the financial crash, people need to know that the austerity it led to is over."
The question to the panel was: "How can we believe claims that austerity is over given that thousands are still reliant on food banks?"
There were a ton of claims in this section, starting with the one implied in the question.
We don't know for certain how many people use food banks. The largest food bank network in the UK, the Trussell Trust, estimated that around 666,000 different people used its food banks in 2017/18. In that year the Trust handed out 1.3 million food parcels.
A 2014 estimate suggested that the Trussell Trust's food banks account for around half of the 800 food banks in the UK at the time, so the total number of people using food banks could be much higher still than 666,000.
As the clock ticked towards the end of the show, the panellists started throwing around a number of claims which were only tangentially related to the question at hand, marking a fairly frenetic end to the show.
Mr Payne started by saying the Government has reduced the debt from 10% of GDP in 2010 to 2% of GDP now. He probably meant to say "deficit" not "debt". It's correct the deficit (the difference between the government's income and spending) is down from 10% to 2% but the debt (the total amount owed) was worth about 85% of GDP at the end of May 2018.
He also warned against calls to increase taxes, saying: "The tax revenue in this country, the burden is at its highest in 50 years."
This is forecast to be correct for this financial year, for one definition of tax burden—if you look at the size of the government's tax receipts as a proportion of the size of the economy.
Taxes are expected to account for just over 34% of GDP (a measure of the economy) in 2018/19. The last time it was higher was in 1969/70, when taxes reached 35% of the economy at the end of the then Labour government's stint in office.
But this isn't the only way of talking about the "tax burden". It doesn't reflect what people are actually feeling in their pockets, which was also touched on during the programme.
For example, the same term is used by HMRC to describe the portion of people's earnings that they pay in income tax specifically, and this paints a different picture. People tend to be paying less tax as a portion of their earnings now than they did 10 or 20 years ago. As we've covered before, the top 1% of earners have been paying a growing share of the total income tax burden.
Mr Mason then delivered a brief monologue on how the UK wasn't enjoying the benefits of the 21st century: such as trains, new libraries, research and higher education services. To which we say: at least you lucky people have got top-rate fact checking of BBC political programming.
Ms Jenkyns said that the unemployment rate is at its lowest since 1975, which is correct. Ms Bardell countered by saying: "Three million children more are going to be in poverty because of the Conservative government."
This is too high. The best forecasts we have seen—from the Institute for Fiscal Studies (IFS) last year—imply that the number of children in poverty in the UK could rise by between 700,000 and just over a million children by 2021/22, depending on which main measure you choose to look at. None we've seen suggest three million is a realistic figure.
We've contacted Ms Bardell's office to find out what source she had for her figure.
There are some complications to those forecasts. They actually start counting from 2015/16, so we're actually a few years into that period already. The latest figures are still a bit dated—for 2016/17, but they didn't show very large changes since the previous year.
As of 2016/17, there are an estimated 4.1 million children in relative poverty and 3.5 million children in absolute poverty in the UK.
The IFS points out that the forecast rise is in large part due to government policy on taxes and benefits, although at the same time that also shows these estimates are subject to change, depending on what policy changes occur between now and 2022.
We've looked at poverty figures in depth here, as there are many different ways you can measure it.