Question Time this week was in the Royal Borough of Kensington and Chelsea. On the panel were housing minister Dominic Raab MP, shadow home secretary Diane Abbott MP, former Metropolitan Police commissioner Sir Bernard Hogan-Howe, Guardian journalist Aditya Chakrabortty, and Camilla Cavendish, former head of policy for David Cameron. We factchecked claims on the housing for households that lived in and around Grenfell Tower, comments by the leader of the fire safety review about banning cladding, deaths because of stabbings and shootings, claims about police budgets, numbers and community policing, and prosecutions and prison sentences for people carrying blades.
This piece no longer contains the latest figures. You can read our article with the latest figures on where households from Grenfell Tower and the surrounding area are living here. 
"Most of the people made homeless by the Grenfell Tower fire are not in permanent accommodation."

Diane Abbott, 17 May 2018

"We have 201 of the 210 households who have accepted or moved into temporary or permanent accommodation."

Dominic Raab, 17 May 2018
Most households that lived in Grenfell Tower or in neighbouring Grenfell Walk made homeless by the fire have not yet moved into permanent accommodation. It's also correct that most have accepted or moved into temporary or permanent housing.
According to Grenfell Support, a Kensington and Chelsea council-led initiative, 75 of the 210 households from Grenfell Tower and Grenfell Walk have now moved into permanent homes. This is just over one third.
They say 63 households have moved into temporary accommodation, while 72 are still in emergency accommodation. These figures are accurate as of 17 May.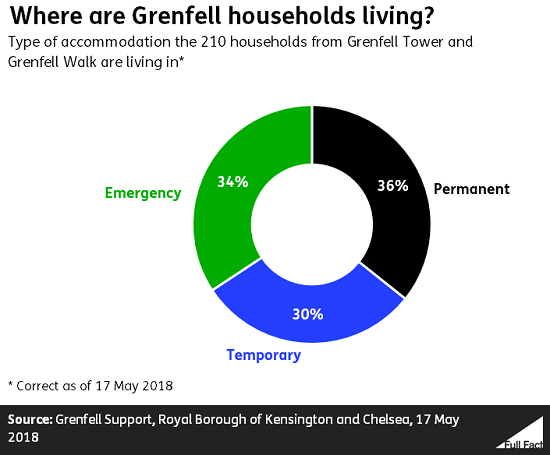 The Royal Borough of Kensington and Chelsea told us the most up to date figure as of 17 May was that 202 households had now accepted or moved into temporary or permanent homes. This 202 figure can't be reached from Grenfell Support's published figures, which do not break down what kind of accommodation the people who have accepted offers are currently living in.
The Ministry of Housing, Communities and Local Government said that Dominic Raab gets bi-weekly updates on the figure, and when BBC Question Time was recorded he had most recently been briefed with Monday's figure of 201.
During a Commons debate on 16 May on the Grenfell Tower tragedy, Secretary of State for Housing, Communities and Local Government James Brokenshire said there were "people who have accepted an offer of a permanent home still living in emergency accommodation".
Grenfell Support also say that "households currently living in temporary accommodation provided by the Council or our partners, also have the option to make these properties their permanent home if they wish."
Rehousing in the wider Grenfell area
After the fire, 128 households moved out of their homes in the area surrounding Grenfell Tower.
Of the 128 households who left the surrounding flats, as of 17 May, one had accepted and moved into a permanent home. 39 households had returned to their homes, 16 households were in hotels, serviced apartments or were staying with friends and family and 72 households had moved into temporary accommodation.
The council has published more information on who is eligible for their wider Grenfell rehousing policy here.
Grenfell Support updates their rehousing figures for Grenfell Tower and Walk residents and wider Grenfell area tenants once a week. Since this article was originally written new figures have been released.
As of 24 May, 80 households from Grenfell Tower and Grenfell Walk are now in permanent accommodation, 58 are in temporary accommodation and 72 are in emergency accommodation. The council told us 203 households had moved into or accepted offers for permanent or temporary homes.
For households in the wider Grenfell area, the figures are largely the same, although one less household is in a hotel, serviced apartment or with friends and family, and one more is in temporary housing.
"When the lady that did the inquiry, the Hackitt inquiry, when she was asked why she didn't call for it [the banning of cladding], she said she didn't think it was her job."

Diane Abbott MP, 17 May 2018
Dame Judith Hackitt, the leader of the government's independent review into building regulations and fire safety, has said she didn't think it was her role to go into "the detail of individual regulations or the specifics of the guidance". She has also raised concerns about the effectiveness of a ban.
The independent review called for a "radical rethink of the whole system", but has been criticised for not calling for an outright ban on cladding. It recommended an 'outcomes-based' system where buildings have to achieve a set level of safety rather than be built according to a set list. It said its aim was to "move away from telling those responsible [...] 'what to do' and place them in a position of making intelligent decisions". The review recommends a more robust regulatory framework and, among other recommendations, calls for a more effective product testing regime.
When asked by the Housing Select Committee why she did not advocate an explicit ban on combustible materials, she said: "I made it very clear in the early meetings that I had with many people that my role was to look at that system and that I would not be going into the detail of individual regulations or the specifics of the guidance, but creating a framework that would enable others then to do that".
She said she welcomed the government's announcement made in light of the review of a consultation on a ban, which she said was "complementary" to her review.
However, she has raised concerns about a ban. She told MPs "We already have clear statements about what can and cannot be done that we know people are navigating their way around, so simply banning something from happening is no guarantee of compliance [...] if people attach too much reliance upon banning activities and particular materials as being a solution to this problem it will create a false sense of security unless we put a robust system around that."   
The terms of reference for the review stated its purpose was to "make recommendations that will ensure we have a sufficiently robust regulatory system for the future and to provide further assurance to residents that the complete system is working to ensure the buildings they live in are safe and remain so." The review was announced following the results of the first large scale tests of different cladding systems—this found the first system tested had failed the tests set out in building regulations. The government said the review would ensure "we can swiftly make any necessary improvements".
The government has said that the cladding believed to have been used on Grenfell Tower was unlawful under existing building regulations.
The review is separate to the public inquiry into the Grenfell Tower tragedy.
"Sadly an awful lot more people have died this year through stabbings or shooting, and more young men."

Sir Bernard Hogan-Howe, 17 May 2018
It's unclear if this is referring to deaths in London or across the whole of England and Wales. The closest data we have to this is for homicides involving stabbings in London until the end of last year and those stabbings or shootings across the whole of England and Wales in 2016/17. These show increases over the last few years.
We've asked Sir Bernard Hogan-Howe for more information.
London
We contacted the Metropolitan Police who told us that it didn't generally give out an up-to-date running total on the number of homicides as these figures are published annually.
Separate figures on the number of homicides involving sharp instruments suggests that the numbers have stayed relatively flat since 2013/14 but increased in the first nine months of 2017/18 (the most recent figures available). We haven't found similar figures for shootings.
Earlier this year the Metropolitan Police had told us there had been 38 fatal stabbings up until 20 April.
England and Wales
Looking at the whole of England and Wales the number of homicides involving a sharp instrument had generally been decreasing over the past decade, but the number has increased in the past two years to 215 in 2016/17 (the most recent figures available), up from 212 in 2015/16.
Similarly the number of homicides involving a shooting had generally decreased to a low of 21 in 2014/15, but has increased for the last two years, to 32 in 2016/17.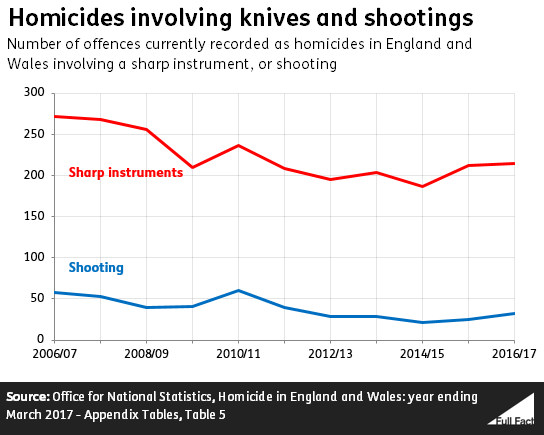 Around three-quarters of victims of homicides involving a sharp instrument in 2016/17 were male—and the majority of those were under the age of 34. The proportion who were male has increased in recent years, but is just below the level it was in 2007/08 (the highest recorded in the last decade).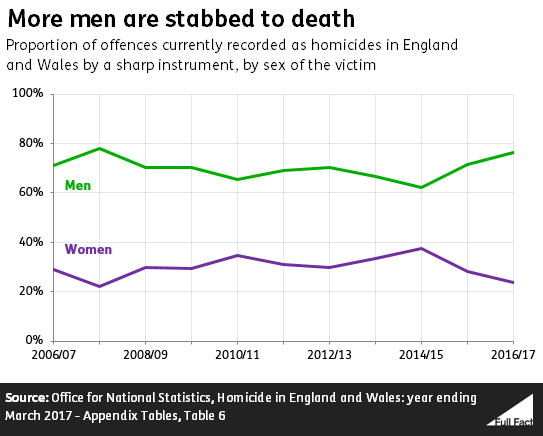 Over half of all victims of firearms offences in 2015/16 were between the ages of 15 and 34—not including air weapons and including all offences, not just homicides. Figures on the gender and age of the homicide victims who die in shootings aren't regularly published.
Increases in knife and gun crimes recorded by the police are partly down to improvements in recording practices, but the Office for National Statistics also put this down to a genuine rise.
"On the law enforcement side we're catching more people carrying a blade, more are being prosecuted than ever before, and they spend longer in prison."

Dominic Raab MP, 17 May 2018
More people are being caught carrying knives
Between 2016 and 2017, there was a 33% increase in the number of offences relating to possession of an article with a blade or point recorded by police in England and Wales.
There were over 17,000 offences involving possession of an article with a blade or point in 2017.
The number of recorded offences involving possession of a knife in England and Wales has increased in recent years, though some of this rise could be down to improved police recording and "targeted police action in relation to knife crime". Before then, recorded knife possession offences were on a downward trend since specifically recording possession of knives was introduced in 2009.
Recorded knife crime generally has also been increasing and you can read more about that in our knife crime supercheck.
Prosecutions for knife possession offences are up
There was a 12% increase in prosecutions for possession of an article with blade or point offences in England and Wales between 2016 and 2017, to just under 9,000. That includes prosecutions against children.
The figures are for those prosecutions where possession of a knife was the defendant's most serious offence if multiple offences are being tried.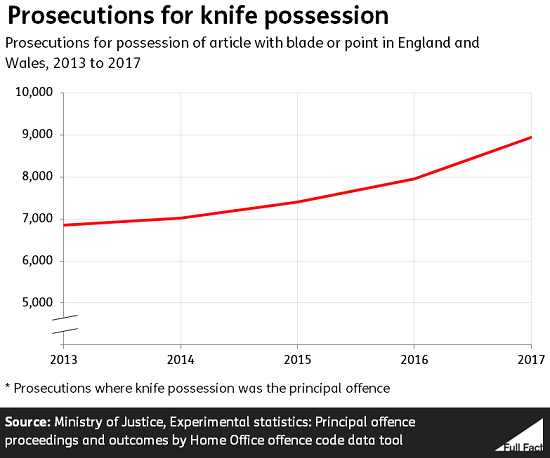 There was a 9% rise in the number of knife and offensive weapon offences—specifically those relating to possession and aggravated possession—that led to a caution or a conviction in England and Wales between 2016 and 2017.
A bigger proportion are given a custodial sentence for knife possession
The average custodial sentence for a knife or offensive weapon possession offence in England and Wales rose by 2.2 months between 2008 and 2017, to 7.5 months. 38% of offenders were sentenced to more than six months, compared to 20% in 2008.
In 2015, a new minimum sentence of six months was introduced for adults convicted of possessing a knife or offensive weapon for the second time or more.
Convictions are now more likely to result in a custodial sentence. In 2017, 63% of convictions of a knife or offensive weapon offence result in immediate custody or a suspended sentence, compared to 42% in 2008.
"We have protected the police budget since 2015, there's 460 million extra going in this year if you include from the local precept."

Dominic Raab MP, 17 May 2018
"When you talk about the police budget... an important role for police, where they have the numbers is to actually engage with communities, to get information, to find out what's going on. But because actually the government hasn't protected the police budget and because there are fewer policemen, that very important role for the police, apart from law enforcement, isn't happening."

Diane Abbott MP, 17 May 2018
Police funding is set to increase this year
In March 2018, the government announced that police funding in England and Wales will 'increase by £460 million in 2018/19'. Not all of this money comes from government directly.
Of the £460 million, £280 million extra is being raised locally, not centrally, through  increases in council tax charged by Police and Crime commissioners.
So the budgets of local forces are projected to increase by around £280 million (or by 2.6%). Once you factor in the effect of price increases on the 2017/18 budget this increase in spending is much smaller at around £114 million (or 1%).
An extra £50 million in cash terms is being spent on counter terrorism operations. The remaining £130 million is for improving the technology used by police forces and for special grants to meet unexpected costs for events such as policing the Commonwealth Heads of Government Meeting in London.
Police funding fell from 2010 to 2015 and has been protected since then
From 2010/11 to 2015/16 the police budget fell according to estimates compiled by the National Audit Office.
The 2015 Spending Review promised to "protect overall police spending in real terms over the Spending Review period"—up to 2019/20, and that's reflected in more detailed estimates the government has published.
The central government part of that is actually expected to fall in real terms. It only stays flat overall if local Police and Crime Commissioners raise the maximum they're allowed to. For 2018/19 PCCs actually raised more from council tax increases than the government's forecast
We've written more on police funding here.
Police officer numbers are falling
The number of police officers in England and Wales has fallen by just under 20,000 between September 2010 and September 2017.
There were 122,000 police officers in September last year. Counting those from the British Transport Police and those on secondment it was 125,000. We've written more about this here.
There's evidence that community policing deteriorated in 2016 but has since improved
We asked Ms Abbott's office what specifically she meant by saying that the police aren't engaging with communities.
Ms Abbott's office pointed us towards a briefing from the House of Commons Library which shows that the number of Police Community Support Officers has fallen from a peak of around 16,900 in 2010 to around 10,200 in 2017 (working the equivalent of full time).
Last year, the police watchdog HM Inspectorate of Constabulary expressed concern that "the extent to which neighbourhood teams are diverted to other work is too often detracting from neighbourhood policing and limiting problem solving opportunities."
It also said that "local policing is the area of operational policing that shows the greatest decline in performance."
But this year the inspector said: "It is commendable that since 2016, nearly half of all forces have increased or maintained the number of staff assigned to neighbourhood policing. This is despite an overall 8 percent decrease in expenditure dedicated to this area." It said further improvements were still needed.
---