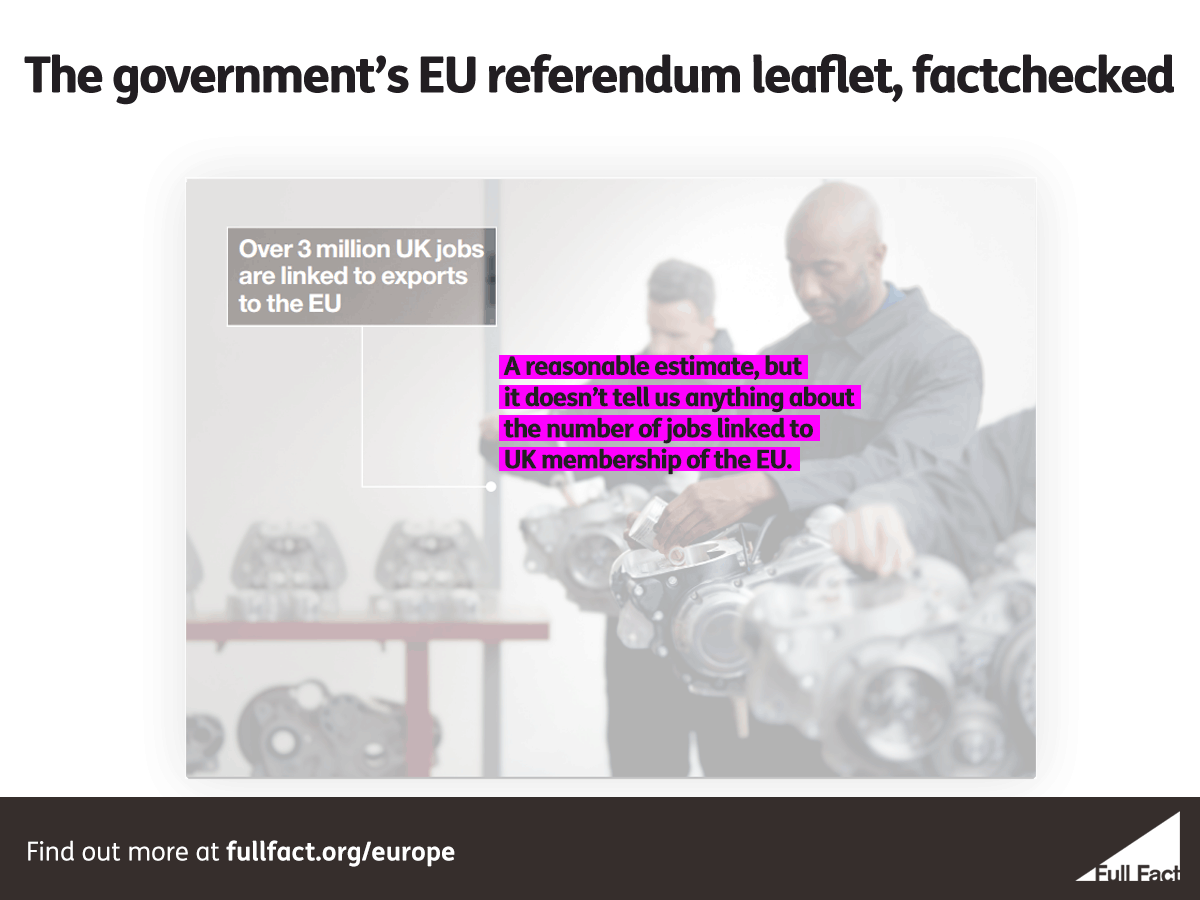 "Over 3 million UK jobs are linked to exports to the EU"
This is an estimate of the number of jobs directly involved in companies exporting to the EU, plus the number of jobs in their suppliers that depend on their business, and so are indirectly linked to exports to the EU.
Crucially, it doesn't tell us anything about the number of jobs linked to British membership of the EU.
The way this calculation is done goes back to the year 2000, and reports from Southbank University and the National Institute of Economic and Social Research.
NIESR's report explicitly said: "there is no a priori reason to suppose that many of these [jobs], if any, would be lost permanently if Britain were to leave the EU."
Similarly the Southbank University research says: "Although many previous studies have sought to answer the question of what would have happened if Britain were not a member of the EU, we do not seek to test this counterfactual hypothesis".
Full Fact wants to see greater accountability for public figures who mislead us—and we need your help.
Political debate in the UK is in flux right now. The UK's exit from the European Union is approaching, we will soon have a new prime minister and potentially a general election.
We want politicians to tell the truth, and while the best politicians realise that their work should be done honestly, some aren't taking their responsibilities seriously. Both sides in the EU referendum campaign let voters down, from deceptively designed leaflets to some of the arguments made on each side. The public rightly expects more from politicians.
We want to see greater accountability for public figures who mislead. Full Fact will continue to advocate for higher standards and call out those who don't uphold them.
But we rely on the generosity of our supporters to make sure we can spot the most harmful misinformation when we most need to.
Can you help us?
Support better public debate today.
---