The government's immigration target: only achievable outside the EU?
3 June 2016
"you promised to reduce annual net migration to the tens of thousands and not the hundreds of thousands ... it's a promise that cannot be fulfilled whilst we remain in the European Union."—Faisal Islam

"Well I don't accept that"—David Cameron, Sky News, 2 June 2016

"The only way we have a chance to deliver on that manifesto promise is if we take back control over making our own laws on immigration"—Theresa Villiers, BBC Today Programme, 3 June 2016
EU citizens generally have the right to live and work in any other EU country. That means we can't control the scale of immigration from other EU countries.
So the government can't guarantee meeting its net migration target if the UK remains in the EU, it depends on EU citizens choosing not to come to the UK.
If EU net migration remains at its current levels of an estimated 185,000 people a year, it would need an unprecedented reduction in non-EU net migration—currently adding another 190,000 people—for the target to be met.
Either way if the government still wants to meet the target, EU immigration almost certainly needs to fall. Even then, immigration from outside the EU needs to fall as well – which the government does have some control over.
Similarly, reducing EU net migration after leaving is unlikely to be enough on its own. Even if the UK brought net migration from other EU countries to zero—which is never likely to happen—it would still be missing the target now and would have been for most years since 2010.
Net migration from outside the EU – which the government does have some control over – would have to come down in any case.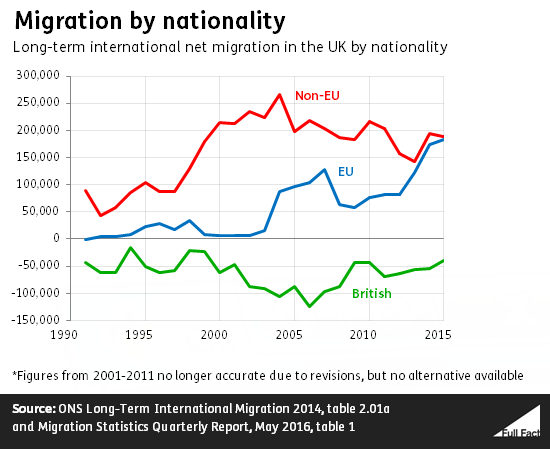 There's uncertainty whichever way the UK votes in the referendum. We don't know how immigration levels might change if we vote to remain in the EU. If levels are reduced after a vote to leave, there could be knock-on effects in how employers in the UK or other EU countries react that could change the equation again.
Madeleine Sumption, Director of the Migration Observatory at the University of Oxford, commented recently:
"It is unclear what impact a vote to Leave would have on migration. EU exit could mean significant new restrictions on EU migration, but it's also possible that the impact would be very small if the UK remains part of the European single market.
"At the same time, staying in the EU does not mean that migration will remain at current levels forever. Migration can change dramatically even without a change in policy, as it has done over the past few years. EU migration could be either higher or lower in the future if the UK votes to remain."