In brief
Claim
The big banks and multinationals might be lobbying to keep us in the EU, but small and medium-sized businesses feel differently
Conclusion
There aren't any representative surveys of business opinion generally that we're aware of, but there is evidence that smaller businesses are more divided on the EU than larger businesses.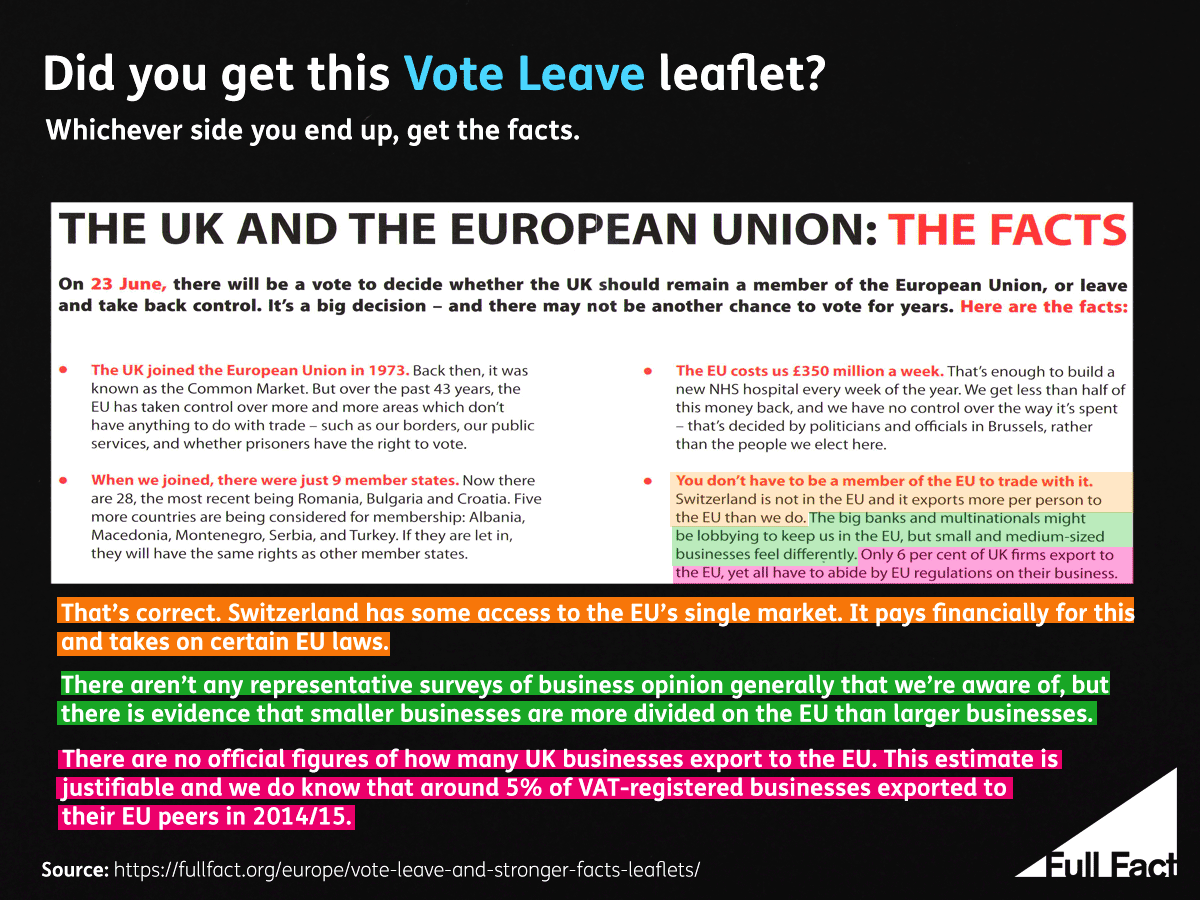 "The big banks and multinationals might be lobbying to keep us in the EU, but small and medium-sized businesses feel differently".
It's difficult to get a representative picture of UK business opinion about the EU. As far as we're aware, there aren't any surveys that offer this on the EU.
Surveys carried out by business membership bodies suggest that, among their members, larger businesses are more likely than smaller businesses to want to stay in the EU.
It is hard to go further than that.
These are surveys of businesses that have chosen to join membership bodies. There are difficulties ensuring the surveys are representative of all members of those organisations and they will not be representative of businesses generally.
For example, the latest British Chambers of Commerce member survey showed a big difference in opinion between the exporters they surveyed, who were more likely to favour remaining in the EU, and the non-exporters, who slightly favoured leaving.
That makes a difference to its overall results because the number of exporters among the respondents was disproportionately high.
So there is evidence to say that smaller businesses are less likely to want to stay in the EU than bigger ones, and there is evidence that small business opinion is more divided and in that respect more similar to the general public's. We have found no firm evidence to go as far as saying that most small businesses want to leave the EU.
But there are no hard figures we've seen that represent what businesses generally or all smaller businesses specifically think about the EU.
Full Fact wants to see greater accountability for public figures who mislead us—and we need your help.
Political debate in the UK is in flux right now. The UK's exit from the European Union is approaching, we will soon have a new prime minister and potentially a general election.
We want politicians to tell the truth, and while the best politicians realise that their work should be done honestly, some aren't taking their responsibilities seriously. Both sides in the EU referendum campaign let voters down, from deceptively designed leaflets to some of the arguments made on each side. The public rightly expects more from politicians.
We want to see greater accountability for public figures who mislead. Full Fact will continue to advocate for higher standards and call out those who don't uphold them.
But we rely on the generosity of our supporters to make sure we can spot the most harmful misinformation when we most need to.
Can you help us?
Support better public debate today.
---