BBC Question Time: Recap and Factcheck
2 November 2018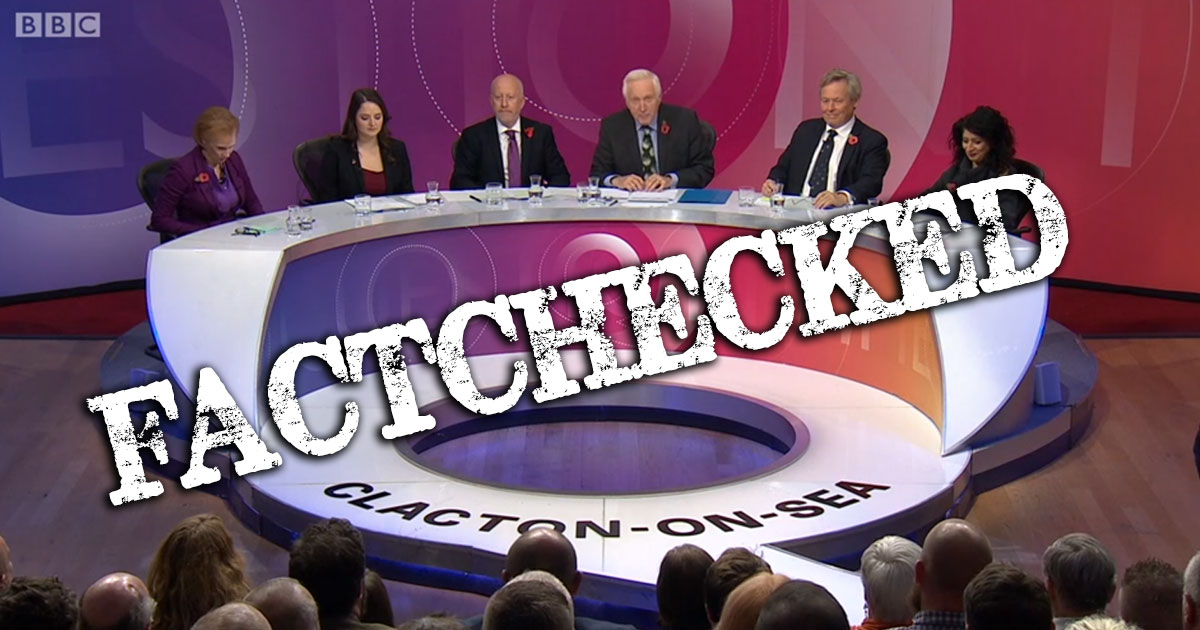 Question Time this week came from the coastal town of Clacton-on-Sea in Essex and its main focus was the Budget delivered by the Chancellor earlier this week. As a result—and much to our surprise—we almost (almost) made it through a whole episode without a question on Brexit.
The topics covered this week included income tax changes for the rich and poor, whether or not austerity is ending, if the budget signals an early election, policing priorities, and (right at the end) the impact on Brexit of the investigation into Arron Banks.
On the panel this week was Conservative MP for Clacton, Giles Watling, standing in for a stranded Liz Truss who couldn't make the show. Joining him were Labour's shadow transport secretary Andy McDonald, senior editor of the Economist Anne McElvoy, associate director of the Institute for Economic Affairs Kate Andrews, and comedian and author Shappi Khorsandi.
Obscure fact about Clacton-on-Sea tangentially related to politics: the oldest known example of worked wood in the world was dug up in Clacton in 1911. Known as the Clacton spear it is estimated to be around 400,000 years old. Is that necessarily related to politics? Not really, but it's a pretty good fact.
Honesty in public debate matters
You can help us take action – and get our regular free email
Question 1: the budget and income tax
The initial question for the audience established the main topic for the programme, the Budget. "Why did the Chancellor give more income tax [breaks] to the rich rather than the poor?"
The Chancellor announced that, the personal tax allowance will increase from £11,850 to £12,500 next April. That's the amount of earnings you don't have to pay income tax on. The threshold for the higher rate of income tax has also been increased. At the moment, you start paying the higher rate (of 40% tax) once you earn over £46,350 a year—but from April this will rise to £50,000. These changes will mostly help higher earners, which we looked at here.
Responding to this Kate Andrews said that "the tax burden is the highest it has been in nearly 50 years." We looked into this claim last week, and essentially it's correct, if you look at tax collected as a proportion of GDP.
The amount the government collects in tax is forecast to be 34.6% of GDP in 2018/19—it hasn't been higher than that since 1969/70, when tax revenue was 35% of the total value of the UK's economy. In 2017, the Institute for Fiscal Studies said two thirds of tax revenues came from income tax, national insurance contributions and VAT.
That's not the same as the tax burden for individuals. Less of the average wage is going toward income tax than it was twenty years ago.
Focusing on what money collected through taxing large companies could be used for, Giles Watling then claimed that "We're putting £120bn a year into [the NHS] right now. Highest ever in history."
The NHS England budget is expected to be about £115 billion in 2018/19 and total health spending in England is expected to be around £129 billion. Total health spending includes non-NHS spending on things like public health and training.
Health spending is devolved so the UK government is only responsible for health spending in England (though changes in health spending there may affect the overall budgets of the devolved governments).
Those are the highest overall spending figures historically, as health spending almost always increases faster than inflation (the change in how much things cost over time). We've written more about this here. New funding has also been announced for the NHS in England, but when you look at health spending as a whole it still falls short of what is needed to cope with increasing demand and cost pressures next year, according to experts at the Health Foundation.
Looking at the subject of austerity Kate Andrews said: "The cuts have been disproportionate to young people and those who are on welfare benefits." We're also looking into this, keep an eye on our Twitter for updates.

Question 2: the end of austerity?
The next question continued the Budget theme this time focusing on the Chancellor's statement that "the era of austerity was finally coming to an end". The audience wanted to know that if this was the case "when will communities like Clacton feel it?"
The discussion turned to defining austerity and whether everyone had the same definition of it. Shappi Khorsandi said that "I would recognise the end of austerity, not just when more things have spent money on, but the things we have lost through austerity are returned to us; half of the Sure Start centres since 2009 are gone…"
The number of Sure Start centres in England (the childcare and education centres for under-fives that were first introduced under the Labour government) has fallen since 2009, although by less than half.
The precise number is disputed due to disagreements about exactly what counts: some sites provide a more limited range of children's services than official Sure Start centres, and others may have been merged or restructured. This has been a contentious issue for many years—we've previously covered it in 2013, 2014, 2016 and earlier this year.
There were around 3,600 Sure Start centres across England in 2010. Research by the Sutton Trust shows that by 2017, the number of sites classified as children's centres had fallen to around 3,100 (a drop of 14%), but the number of Sure Start centre closures may have been higher than official figures suggested—a fall of more than 30%.
She then said that "We have lost over £1 billion, since 2009, in arts funding." We're going to look into this some more.

Andy McDonald then moved onto education saying that "Our schools are underfunded, they have had an 8% cut."
This is correct. The Institute for Fiscal Studies estimates that spending per pupil in England fell by 8% in real terms (i.e. after taking inflation into account) from 2009/10 to 2017/18, and is expected to remain constant between 2017/18 and 2019/20.
He then said: "We live in a country where there are 123,000 children being taken into care, four million children are in poverty, homelessness is on the rise, it's an absolute outrage".
There are an estimated 4.1 million children in relative poverty in the UK—which is one of several possible ways of measuring poverty. The number estimated in absolutely poverty, for example, is 3.5 million. The latest figures are for 2016/17. The number in relative poverty has crept up in recent years, while the number in absolute poverty has gone the other way.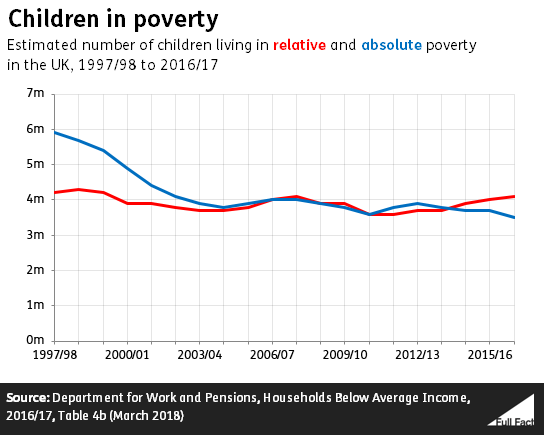 You can read more about what these measures mean in our explainer.
Both homelessness in England and Wales (people accepted by councils as in "priority need" of housing) and rough sleeping in England (people actually observed sleeping in public places) have risen since 2010. In the case of homelessness, this remains well below the peak in the early 2000s. In the case of rough sleeping, this has more than doubled since 2010, and we don't have good numbers for earlier years.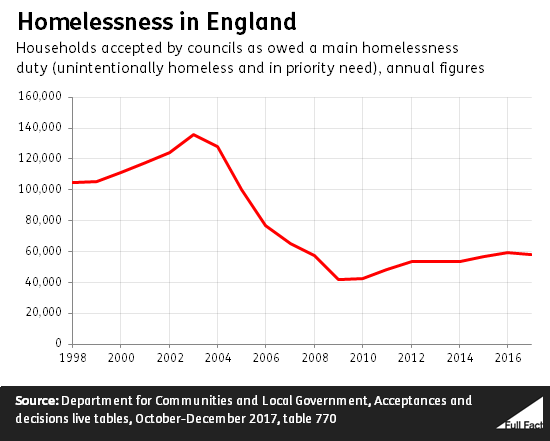 The picture is slightly different in other parts of the UK, which we've looked into more here.
The figure of 123,000 children being taken into care presumably refers to the number who are in temporary accommodation in England, which is what local authorities have to provide for homeless households considered to be in priority need. It's a bit like a 'waiting list' for permanent housing.
Nearly 80,000 households in England were in temporary accommodation at the start of 2018—which is the latest period we have figures for. There are around 123,000 children in those households. The number of children under these circumstances has been rising since 2011, but that followed years of falls. It's now back roughly to levels last seen in 2006/07.
Of course, this isn't normally what someone would mean when they say a child has been "taken into care", the phrase usually refers to those children in the care of their local council. There were about 73,000 children "looked after" by councils in 2016/17 and we've written more about this here.
Question 3: the possibility of an early election
Moving on to look at the political implications of the budget, rather than the financial, the audience asked "After the sugar coated budget, is this just a sweetener for an early election?"
It was a short segment of the programme, with both the panellists and the audience giving their views on the likelihood of an election and the various parties' prospects. Giles Watling and Andy McDonald then clashed over Labour's borrowing record.
Mr Watling claimed that "Labour would borrow one trillion to cover their promises," to which Mr McDonald replied "That's absolute nonsense".
Mr Watling is referring to the claim that Labour would spend a trillion pounds to meet their election promises, not borrow a trillion pounds.
The original claim probably came from reports that some Labour staffers said that spending commitments in their 2017 election manifesto were not fully costed, and that it could be credibly claimed that these amounted to a trillion pounds.
So the figure hasn't been definitely proved correct or incorrect, and we also don't know whether it refers to increased spending, total spending or over what time period. But it definitely didn't refer to borrowing as Mr Watling suggested. We've looked at this in more detail here.
Question 4: policing priorities
Moving away from the budget the audience posed the question: "should the police spend more time catching violent criminals instead of investigating hate crimes and cold cases?"
Andy McDonald was the first from the panel to answer, saying "We are 21,000 police officers down." It's correct that in England and Wales the number of police officers fell by 21,000 between March 2010 and March 2018 and now stands at 122,000. We've written more on this here.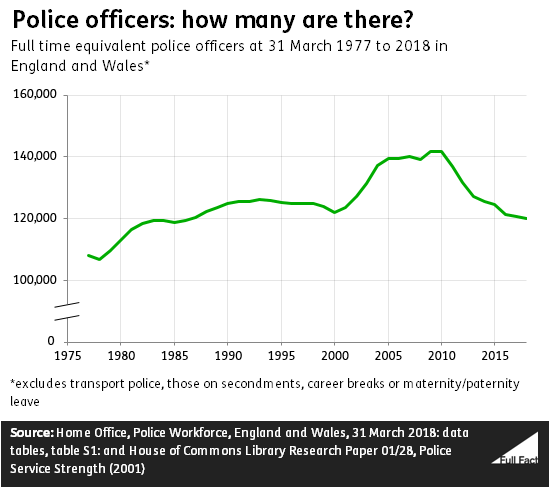 During the ensuing discussion Kate Andrews said: "The UK is currently spending more on the foreign aid budget than it is on policing in Wales and England", to which David Dimbleby later added: "[Foreign aid is] 0.7% of GDP isn't it?"
They're both basically correct. The total police budget for England and Wales in 2018/19 is £12.3 billion, and the UK's provisional foreign aid budget was £13.9 billion in 2017. Of that total police budget, £8.6 billion is funded by central government, while the rest comes from council tax contributions and charging for services at events like football matches.
Of course, these budgets cover different geographic areas, different time periods, and present very different challenges and scales. We've talked about comparing the foreign aid budget to other public spending areas before.
As for our host's claim, the government has a target of spending 0.7% of Gross National Income (the annual income received by residents here plus income from overseas) on foreign aid. We've been in line with that target since 2013.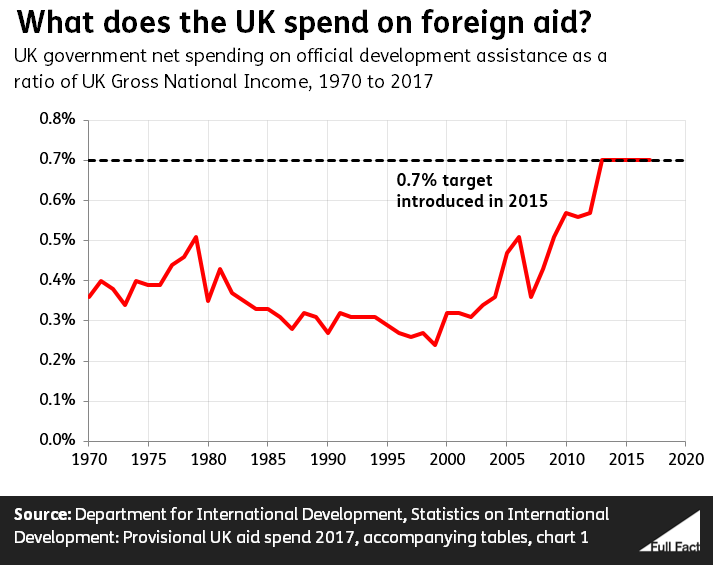 Following a discussion about the types of crime that police may have to prioritise, the conversation moved to domestic violence. One audience member alluded to his own experience of this and said: "12 men kill themselves every day."
This is correct. 4,382 men's deaths were registered as suicides in the UK in 2017, which averages out to 12 deaths every day. If you include women, there were around 16 suicide deaths registered a day. Suicide rates have generally been going down in recent decades.
Not all deaths reported in these figures will have happened in 2017 as inquests can sometimes take months or even years to complete. The Office for National Statistics' definition includes "all deaths from intentional self-harm for persons aged 10 years and over, and deaths where the intent was undetermined for those aged 15 years and over".
(The Samaritans' helpline is available at all hours and can be contacted free on 116 123, or you can email jo@samaritans.org, or visit their website to learn how you can get help.)
Moving back to overall crime levels Anne McElvoy then said: "but I think overall we have seen about 10% of crimes being thoroughly solved at least at the first go". Keep your eyes peeled for an upcoming factcheck on this, we're looking into it.

Question 5: Brexit and the Arron Banks investigation
During the final five minutes of the show the audience enquired about the inquiry into Arron Banks and whether this meant Brexit should "be halted until the results of the... inquiry are known?"
This follows news from the Electoral Commission yesterday that "A number of companies and individuals have been referred to the National Crime Agency for suspected criminal offences committed during the EU referendum." This follows an investigation by the Electoral Commission that "focused on £2m reported to have been loaned to Better for the Country by Arron Banks and his group of insurance companies and a further £6m reported to have been given to the organisation, on behalf of Leave.EU, by Arron Banks alone."
The panel largely agreed that there should be an investigation into the allegations, but most thought that this wasn't a reason for putting the Brexit process on hold.