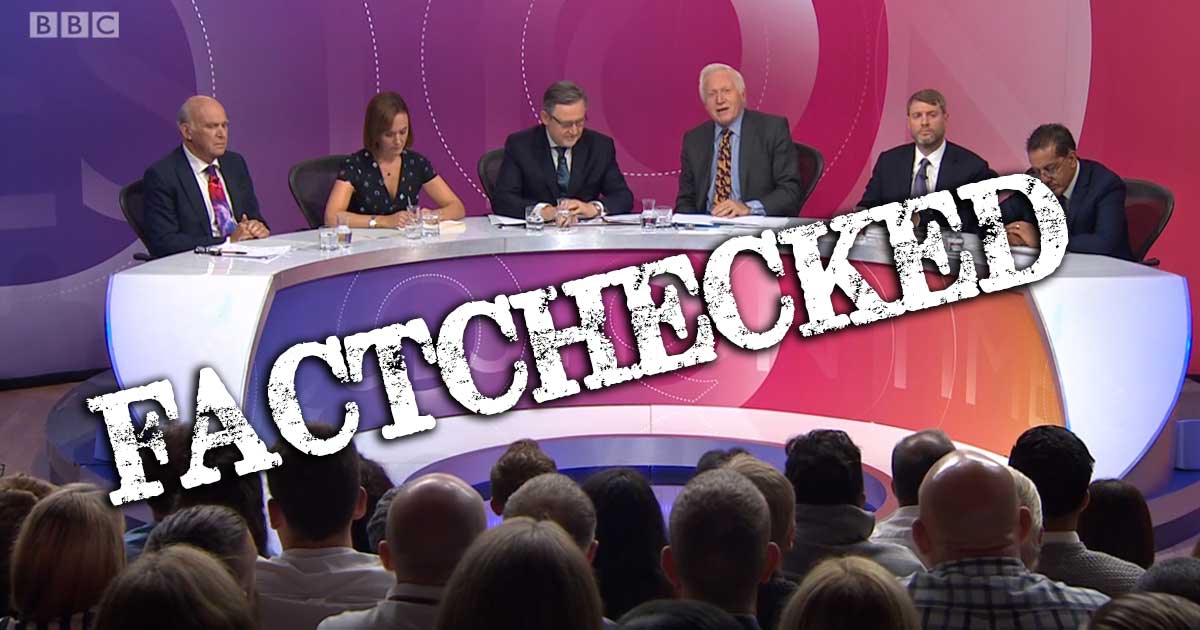 This week BBC Question Time was coming from the West Yorkshire town of Dewsbury. We stood ready to factcheck the claims and generally appreciate the excellent array of ties on offer from the panellists.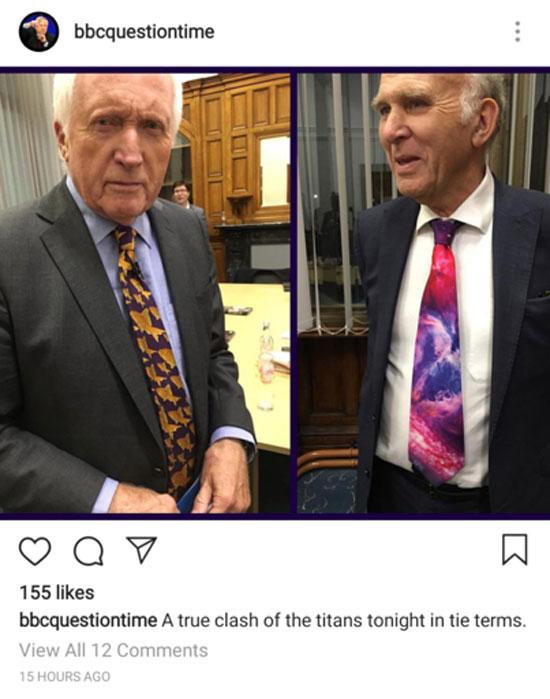 Topics covered on the show included Brexit and the Chequers deal, rail nationalisation, Islamophobia in the Conservative party, and the point of party conferences.
On the panel this week were vice-chair of the Conservative party Chris Skidmore, Labour's shadow international trade secretary Barry Gardiner, Liberal Democrat leader and inventor of the phrase "exotic spresms" Vince Cable, lawyer and former chief executive of the Association of Police and Crime Commissioners Nazir Afzal and, rounding out the group, was associate editor of the Daily Telegraph Camilla Tominey.
Obscure fact about Dewsbury tangentially related to politics: it was the birthplace of the first female Speaker of the House of Commons, Baroness Betty Boothroyd, who served in the role from 1992 to 2000.
Question 1: Brexit and Chequers
Up first was a question from the audience: is it time to "walk away" now that the EU has rejected the Chequers deal put forward by the government? Yesterday, after a meeting of EU leaders, European Council President Donald Tusk said that "while there are positive elements in the Chequers proposal, the suggested framework for economic cooperation will not work".
Both Chris Skidmore and Camilla Tominey kicked the responses off by making reference to the cost of the proposed 'Brexit bill' the UK may have to pay the EU—£39 billion. This figure is roughly correct based on calculations the UK and EU have agreed, although the final value may still change.
Barry Gardiner then claimed that the government is stockpiling a number of different things: medicines, food and "hundreds of portaloos to put on the M20 for all of the lorry drivers…"
Both Brexit Secretary Dominic Raab and Health and Social Care Secretary Matt Hancock have confirmed to MPs the government will ensure there are "adequate food supplies" and is looking at options to ensure the UK has a stock of things like medicines and vaccines in the event of no deal. Though both stressed that industry rather than government would do the actual stockpiling.
And for the second week in a row we found ourselves writing about portaloos:
Highways England has said: "There is no secret plan to put toilets across the M20. It is standard procedure to put toilets down in the event of Operation Stack... There are currently no toilets out there and we have no plans to put any out." https://t.co/1SVQcHuvtM #BBCQT

— Full Fact (@FullFact) September 20, 2018
Moving on Chris Skidmore said: "We won't be able to sign independent trade deals unless we leave that customs union."
That's correct. At the moment, the UK is a member of the customs union, which means for imports from the rest of the world it must charge the same set of tariffs as all the other members—known as a common external tariff.
The UK cannot negotiate separate trade agreements until it leaves the customs union.
As we factchecked earlier this year, over half of the UK's exports in 2016 went to countries the EU has a full or provisional trade agreement with (including EU member states).  
There was a bit of an argument between Vince Cable and Camilla Tominey about whether the public back a second referendum (or "people's vote") on the final Brexit deal. Cable said that "Public opinion is clearly swinging in favour of having a people's vote."
But Tominey countered that "There isn't any evidence for that… Sir John Curtice, who's like Britain's leading pollster, today said there is absolutely no evidence of a swing in favour of a second referendum."
The evidence from opinion polls seems to broadly support Vince Cable on this - although the picture is still unclear. Sir John Curtice has been saying in recent weeks that while there is some evidence of a shift, it isn't consistent across all polls.
Firstly: in case you don't know him, Professor Sir John Curtice is a political scientist at Strathclyde University and the National Centre for Social Research, and is widely regarded as one of the UK's leading authorities on polling (he has become well-known thanks to his regular appearances on the BBC).
We haven't been able to find any recent comments from him that suggest "there is absolutely no evidence of a swing in favour of a second referendum". He did tell the BBC on September 20 that "There is no consistent evidence of a shift in support for a second referendum"—which isn't quite the same.
"There is no consistent evidence of a shift in support for a second referendum" Prof John Curtice told #factcheckjoel after #politicslive guests made claims about calls for a further votehttps://t.co/iR09IQOEQt #politicslive pic.twitter.com/8DJfXbcbBY

— BBC Politics (@BBCPolitics) September 20, 2018
He has also repeatedly written in the past month that there is some evidence for such a swing. However, he has also cautioned that different polls can give very different results, depending on how the question is phrased.
That means it's unclear whether a majority of the public currently supports a second vote, and while there's some evidence of a shift in opinion towards a referendum recently, not all polls tell the same story.  
The best evidence probably comes from YouGov, who have consistently asked the same question at regular intervals over the past year, which gives us the best opportunity to see if there is a long-term trend. The polling since April 2017 suggests that there has been a swing in favour of a second referendum - from a clear majority against a second vote a year ago, to a roughly even split in recent polls.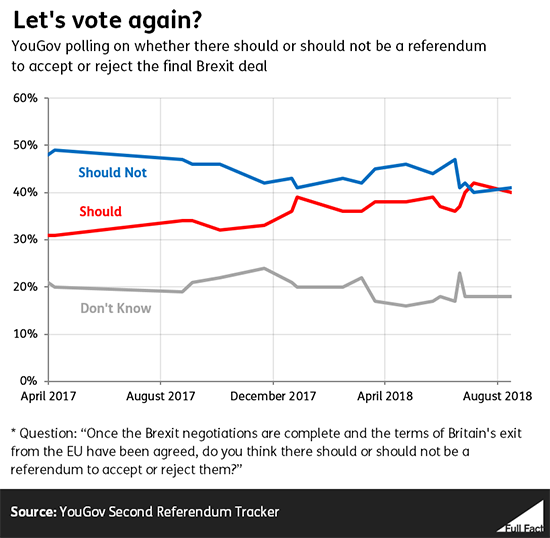 But the picture is still complicated, and different polling questions can produce very different results—we've written in more detail about this here.
Suggesting that the Prime Minister could look to the Commonwealth for future trade deals Camilla Tominey then said that 90% of the world's growth is outside the EU.
The government's new export strategy claims that "Approximately 90% of global economic growth in the next 10 to 15 years is expected to be generated outside the EU."
The Department for International Trade told us that figure was based on International Monetary Fund figures, and we think it's in the right ballpark. You can read more about this claim in one of our most recent factchecks.
The rest of the world's economy has grown faster than the EU's, particularly in the developing world.
There are several different ways to measure it, but looking at Purchasing Power Parity (which accounts for currency changes over time and differing world prices), the EU has shrunk as a proportion of world GDP over a period spanning back several decades. The economies of EU countries have grown since 1980, but the rest of the world economy has grown faster.
According to the International Monetary Fund, the EU accounts for 16% of the world's economy based on Purchasing Power Parity. Although all its current members hadn't joined the EU back then, in 1980, those countries made up almost 30% of the world total.
Question 2: rail chaos and renationalisation
Moving away from Brexit, the audience then asked "After the complete chaos caused by rail companies this summer, why isn't the review considering renationalisation?"—'the review' being the one announced by the government yesterday. It will look into "bringing track and train closer together to reduce disruption and improve accountability, and considering regional partnerships and how we can use innovation to improve services and value for money for passengers."
Vince Cable kicked off the discussion by pointing out that, contrary to popular belief, much of the railways are already nationalised:
"more than half the railway is already nationalised, people forget that. Three or four years ago, it happened by accident, it was done by the government statistician, it wasn't done by legislation. Network Rail actually controls all the infrastructure, it's a publicly owned enterprise."
Railway infrastructure—things like the tracks, signals, and tunnels—is run by Network Rail, which describes itself as a "public company, answerable to Government". Trains, most smaller stations, and routes are split into franchises. https://t.co/xtDpzAQ1XE #BBCQT

— Full Fact (@FullFact) September 20, 2018
It's correct that Network Rail used to be considered a private sector company, but is now classed as public sector.
In 2013, the Office for National Statistics said it planned to reclassify Network Rail into the public sector due to EU requirements on reporting, and described it as purely "a statistical decision". It cautioned that this wouldn't have much practical impact beyond the stats: it wouldn't on its own alter government investment plans and wouldn't affect passengers, fares, punctuality or timetables. But it did probably add about £5 billion of spending to the government's balance sheet overnight.
Camilla Tominey railed about the record of British Rail back before the 1990s, pointing out:
"I think passenger numbers since the late 90s have gone up from 735 million to 1.7 billion, so that's a huge surge and yet so have prices".
And Chris Skidmore added later: "I think the service since [the 1990s], we've seen a 117% increase in people using the service".
Ms Tominey's figures are right—privatisation of British Rail began in 1994, and about 735 million passenger journeys took place in Great Britain that year. In the latest year to March 2018, about 1.7 billion such journeys have happened. Those numbers don't include journeys on the underground and some other special kinds of service.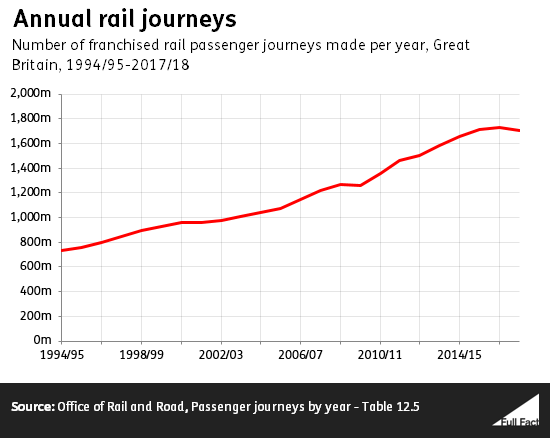 The increase since the 1990s is also close to a 117% rise as Mr Skidmore says, depending on which particular year you count from.
As for prices, Barry Gardiner added more detail:
"Now, people are now paying 32% more for their rail fares, 32%, and getting an appalling service. Since the Conservatives came in, it's 32% rise in rail fares."
That 32% rise refers to regulated fares—which are about half of all fares in the UK and the ones that the government can cap each year. It sets the cap each new year according to what RPI inflation was in the previous July. Based on policies since 2010, that amounts to 32% higher fares (it'll be 36% by next year).
If you look at all rail fares, including those set commercially, the rise is very similar: just under 30% on average since 2010, with long-distance fares rising by the least over that period.
That's outpaced average earnings growth. Over the same period, average weekly wages have gone up by 17%.
Looking ahead Chris Skidmore claimed that "there is going to be £48 billion spent on our rail network." That's correct that over the next five years (2019 to 2024).. Most of this (£35 billion) will take the form of a government grant, and the remainder will come primarily from income generated by the publicly-owned Network Rail.
£48 billion is higher than any previous government contribution over a five year period since 1985 (the earliest date from which we have data for), although the real-terms value of that £48 billion commitment is likely to be smaller, given inflation forecasts over the next five years.
The previous highest funding over a five year period was from 2005-10 when the government put £30 billion in today's money into the British railways.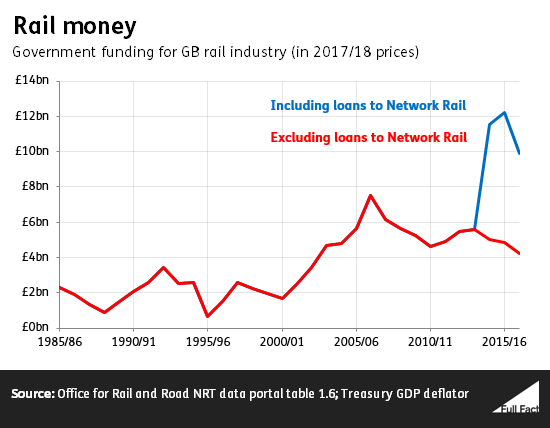 Chris Skidmore claimed that it would cost £176 billion to nationalise the railways. This seems to be based on work done by the Centre for Policy Studies, but we've not been able to look into this yet. Look out for a factcheck in the near future: we'll put anything we find on Twitter.

Question 3: Islamophobia and the Conservative party
The third question from the audience focused on when the Prime Minister was going to hold an inquiry into Islamophobia in the Conservative party—something recommended by former co-chair of the party Baroness Warsi.
This section of the show was rather light on factual claims and was largely composed of the audience and panellists sharing their views on the problems of islamophobia and anti-semitism in both the major political parties and across the country and explaining how widespread they thought they were.
There was a disagreement between an audience member and David Dimbleby over whether or not there was a terrorist attack on a London mosque this week. The incident in question has been described by the Metropolitan Police as a "collision near Muslim community centre in Cricklewood", in North West London.
The Met has also provided an account of the incident: "Police have established that at approximately 00:20hrs security at the community centre were informed of occupants in a car behaving anti-socially, drinking and allegedly using drugs. The occupants of the car - three males and a woman all aged in their mid-twenties - were asked to leave the private car park. The car then drove near the centre and the occupants were involved in a confrontation with a large group of people visiting the centre. Words were exchanged and comments of an Islamophobic nature were allegedly made by the group in the car."
It says that the incident is not being treated as terror-related, "but the hate crime aspect of the collision is being looked at by detectives as an aggravating factor."
Under the (revised) Terrorism Act 2000, terrorism is defined as "the use or threat of action designed to influence the government or an international governmental organisation, or to intimidate the public or a section of the public, and the use or threat is made for the purposes of advancing a political, religious, racial or ideological cause." The action must also fall within a list of criteria, which includes serious violence against a person, serious damage to property, and endangering a person's life.
A hate crime is defined as "any criminal offence which is perceived, by the victim or any other person, to be motivated by hostility or prejudice towards someone based on a personal characteristic."
Question 4: the point of party conferences
It's a time of year that for some, as Camilla Tominey put it, can be full of "gossip and stories and a bit of karaoke", but for the final question of the night the audience wanted to know "what is the point of party conferences?"
This brief section didn't provide much in the way of checkable claims for us and the show swiftly closed with the politicians, perhaps naturally, being more in favour of the conferences than some of their fellow panellists.
Housekeeping note: we'll be taking a break from live-tweeting and recapping Question Time next week (for boring practical reasons) but will still be keeping an eye out for any claims that need checking afterwards.
With Brexit fast approaching, reliable information is crucial.
If you're here, you probably care about honesty. You'd like to see our politicians get their facts straight, back up what they say with evidence, and correct their mistakes. You know that reliable information matters.
There isn't long to go until our scheduled departure from the EU and the House of Commons is divided. We need someone exactly like you to help us call out those who mislead the public—whatever their office, party, or stance on Brexit.
Will you take a stand for honesty in politics?
---