1 year, 5 months ago
BBC deletes inaccurate child poverty claim
The BBC reported this morning on analysis predicting that child poverty is expected to rise under the Conservatives' plans for government.
The Resolution Foundation think tank estimated that, because the party's manifesto does not propose changes to benefits, relative child poverty could reach 34% by 2023/24.
The BBC included a response from the Conservatives challenging the report which they reported as: "The Tories said 750,000 fewer children are in poverty since they took power."
This claim is incorrect. No measure of child poverty shows a fall of 750,000 since 2010—most of the main measures show a rise. The measures that do show a fall put it at about 100,000, well short of the amount claimed.
The line was on the BBC website for most of this morning, but in the past hour the BBC has removed the claim from its article. At time of writing, the claim is still in the BBC's morning news roundup.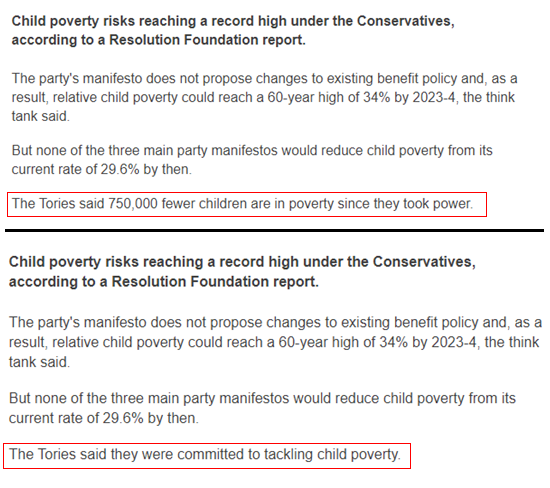 It's possible the BBC misquoted a Conservative quote to the Guardian, which the BBC actually quotes in full later on in its article. The Conservatives said that "We are committed to tackling child poverty and have made progress since we came into government – with 730,000 fewer children in workless households."
The 730,000 figure is correct and shows the change in the estimated number of children in workless households between April to June 2010 and 2019. But it's not a measure of poverty.
We've asked the BBC to confirm if the figure was misquoted, or if the Conservatives actually sent them the inaccurate claim.